Find us – directions to the C. H. Beck printing house in Nördlingen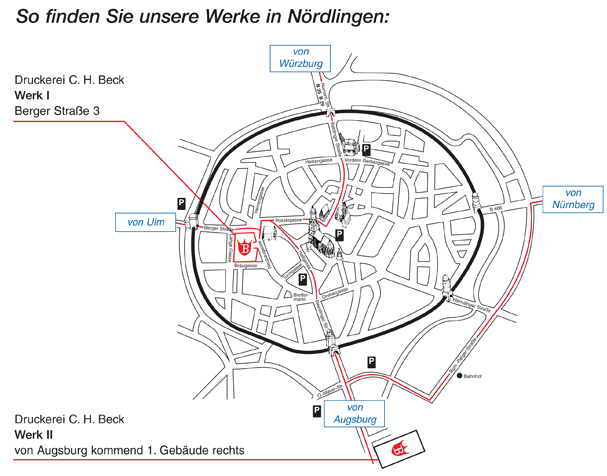 Site I (old building)
Bergerstr. 3 86720 Nördlingen
Site I is situated in the middle of the historic old town, in the original building of the C. H. Beck printing house where it was founded in 1763.

These premises house administration, electronic media, typesetting, pre-press, sheet-fed printing, and a part of bookbinding. As one of the largest employers in Nördlingen, we are able to contribute to the enlivenment of the town centre.
Site II (new building)
Augsburger Str. 67 86720 Nördlingen
Site II is located on Augsburger Straße, on the right-hand side when coming from Donauwörth.

This distinctive high-bay warehouse combines production with the Nördlingen branch of distribution for Beck publishing. The production area is made up of rotary printing presses as well as brochure, loose-leaf and hardcover manufacturing.
Contact Person
Informations