Environment and quality
Only those who know their energy consumers can switch them off
A look at our CO2 footprint shows that, after the printing material, energy consumption during production is the second largest source of emissions.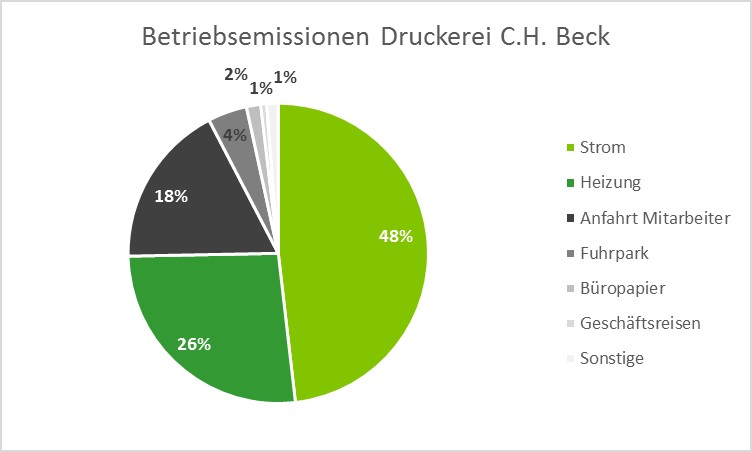 This is one of the reasons why the constant improvement of our energy management system, which is certified according to DIN EN ISO 50001: 2018, is an integral part of our company policy. Since 2014, the energy consumption of the print shop has been systematically recorded in order to tap unused energy saving potential with the help of suitable operational measures and thus to achieve a continuous improvement in the energy balance. In this way, we have been able to more than meet our target - to use 1% less energy per year - year after year. You can read all of the goals, measures and implementations in detail in our energy report.
Certificate ISO 50001:2018
Energy report of the printing house C.H. Beck
We are under (eco) electricity
Despite all the planned and implemented measures, we still need energy to manufacture our products. In order to keep the impact on our environment as low as possible, we therefore purchase an energy mix with a green electricity share of over 60%. For one kWh of electricity, 145g of CO2 are released - so we are well below the German average of approx. 350g per kWh. But we do not rest on that. The planning for a 2000m² photovoltaic system on the roof of our Plant II is currently in full swing.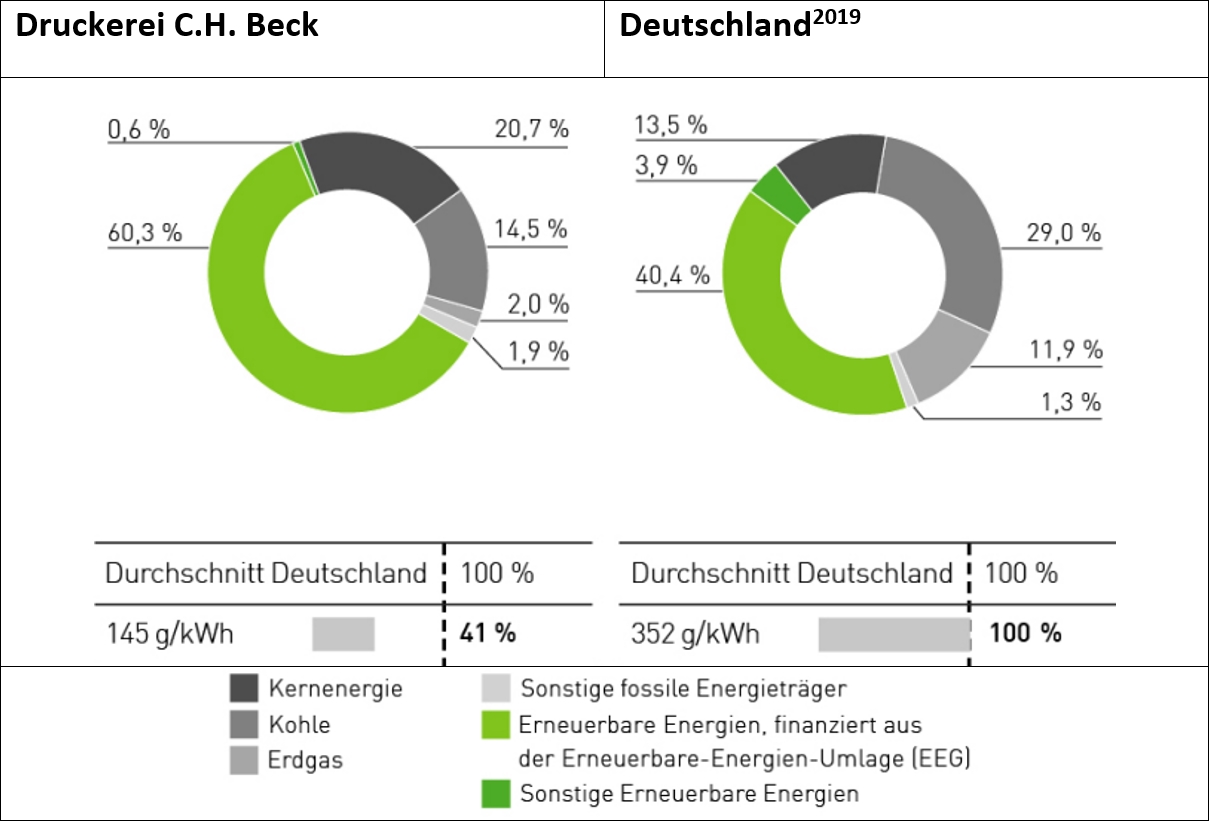 C.H.Beck prints climate-neutrally
In addition, we have been offering the production of climate-neutral print products in cooperation with climatepartner since 2016: Here, the greenhouse gas emissions resulting from the printing process are precisely calculated. By investing in internationally recognized climate protection projects, the unavoidable CO2 emissions are then offset and the printed products leave the factory in a climate-neutral manner.
This process is made transparent by means of an identification label with an order-related and thus individual ID number. Partners, customers and employees can check exactly how many greenhouse gases were created during the production of your items and which climate protection project was used to offset this.

If you are interested in the production of climate-neutral print products - talk to us!
It's the inner values ​​that count
We are at the forefront not only when it comes to energy, but also when it comes to the use of environmentally friendly materials in production. In addition to the almost natural use of reusable pallets and containers, we work, for example, in the area of ​​lamination with biodegradable films. The central focus, however, is on the core of every book - the paper! In conventional printing plants, the substrate causes between 60% and 80% of the total CO2 emissions. One way to reduce CO2 emissions is to use recycled paper. In the production of recycled paper, less than half of the CO2 is generated compared to paper made from fresh fibers. Since 2014 we have been able to steadily increase the use of recycled paper and have thus 9,853 to. CO2 saved.
Speaking of paper …
FSC® (FSC®C019821) and PEFC (PEFC/04-31-0658) certification - paper from well-managed forests
The sustainable preservation of the forests plays an important role for us as a printing company. We participate - as an FSC® (FSC®C019821) -certified company. The FSC® (FSC®C019821) (Forest Stewardship Council®) aims to optimize forest management according to globally uniform standards from an ecological, economic and social point of view.
In the area of ​​environmental protection, we are also PEFC (PEFC/04-31-0658)-certified. Similar to the "Forest Stewardship Council®", the focus here is on documenting and improving sustainable forest management with regard to economic, ecological and social standards.
The two certificates ensure that only clearly certified material is used in the entire wood and paper processing chain. All stages of production, from forest management to the completion of the end product, guarantee compliance with the standards with the seal.
Our guiding principle:
By using FSC® (FSC®C019821) and PEFC (PEFC/04-31-0658)-certified papers, we make an active contribution to environmental protection and thus avoid the use of paper
Wood that has been illegally harvested,
Wood from genetically modified trees,
Wood from forest areas where common and civil rights are violated,
Wood from non-certified forest areas that have a high protection value or are threatened,
Wood from natural forests that have been converted into plantations or not used for forestry purposes.
We are constantly striving to reduce the proportion of papers of unknown origin - also taking into account our quality principles in production - and to ensure the proportion of FSC® (FSC®C019821) and PEFC (PEFC/04-31-0658)-certified papers in the long term.
Help us and ask us which FSC® (FSC®C019821) or PEFC (PEFC/04-31-0658) papers are available in the individual paper types, depending on the order requirements.
We are happy to help.
More information is available for:
FSC® (FSC®C019821) at www.fsc-deutschland.de
PEFC (PEFC/04-31-0658) at www.pefc.de

FSC® (FSC®C019821) Certificate SGSCH-COC-002452 for download
PEFC (PEFC/04-31-0658) Certificate SGSCH-PEFC-COC-000314 for download
Complaints FSC/PEFC
Self-declaration FSC POL 01 004 2019
Declaration of Commitment 2019

Quality management according to DIN EN ISO 9001:2015
Quality is very important to us, the printing company C.H.Beck. Because your requirements as a customer are also ours. We subject our production processes to regular quality controls so that we can always fulfill your wishes to the fullest satisfaction. In this way we guarantee optimized work processes and high quality results.
Certified by DEKRA according to DIN EN ISO 9001:2015 - proof of continuous and holistic quality management throughout the company.
Contact Person
Informations