Responsive Webdesign
The future is mobile
Optimise the appearance of your website on smartphones, tablets and more! Your data needs to be published flexibly over a wide variety of mobile platforms to make your material accessible via these modern means of communication. But as a website provider, how can you ensure that you are equipped with the ideal layout that can meet a mass of devices? One possible answer: Responsive Web Design .
Responsive Web Design provides a frontend that automatically adapts to the features of the device in use, and the graphic design of your website conforms to the device's set of requirements when fetching the page. The means that a big focus lies on optimising the display of navigational elements, text and graphics. The trick here is not to work with fixed or static base elements, but instead to take a relative approach that the screen resolution can dynamically display. The technical basis for this is provided by web standards such as HTML5, CSS3 and JavaScript.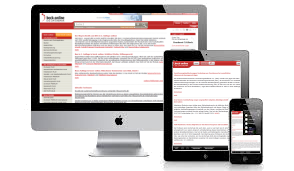 Whether on an iPad, or an iPhone, Blackberry or Android smartphone: we display your content on all current end-user devices with a consistently high number of functions. Of the range of services that we offer, the creation and conversion of data for the widely used e-book is also included. The multitude of devices with which we comb the web seems unending and it is rapidly increasing; there are now more mobile devices than there are people on Earth. More than a third of Germans stay connected with two or more mobile phones and there are over 31 million smartphone users in Germany alone. 53% of internet users today go online on mobile devices, which for some extends to 'always being online'; a reality for 67% of 20 - 29-year-old social network users who are equipped with mobile phones.
Our production workflows are specially developed so that the same database can be used for various different platforms. That way we can implement updates quickly and keep the process economical.
Our experts would be happy to introduce you to our versatile and modern way of mobile publishing.
Contact Person